Kirk, Spock and McCoy are lost in the Star Trek multiverse and find themselves beamed in to your stories. You can't see or hear them but they can see and hear you. Just goes to show, you never know who's watching. So here we go, beaming into the USS Sanctuary to witness its opening scene through the eyes of our favourite Trek heroes.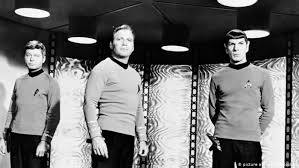 Fade in to the familiar golden shimmer of transporter beams as three figures appear in a dark room. They immediately draw phasers and glance around as if waiting for attack.

"Dammit Jim, where are we?" the doctor glanced around nervously.

"I have… no idea. What do you think of Spock?" the Captain turned to their Vulcan companion waiting for a response.

"I suspect…" Spock mused, "…that we have been drawn into an alternate dimension. We are here to witness monumental events and perhaps learn from them."

"That's nonsense. How could you know that you green blooded goblin." Spat McCoy, his nerves getting the better of him.

"It is quite simple." Spock explained, "I have read the script."

"Oh boy!" exclaimed Kirk as he lowered his phaser in shock.

"That Captain, is the wrong franchise, but otherwise entirely appropriate to our current circumstances." Spock replied.

"So what now?" demanded McCoy.

Lieutenant Commander Robert Razer has been dead for many years. his body lost to the cold space…

"Who said that?" McCoy jumped at the ethereal voice.

"I suggest you calm yourself Doctor." Spock holstered his phaser, "that was just the narrator."

A light flickered on from above and…

suddenly,
Robert gasping for air..naked… in a dark room with a single light shinning down on him …his head, arms and legs were strap down… he did not have a clue where he was nor who he was.. he felt random eyes staring down on him within the darkness… but he could not do anything to escape.. his body hurt… his mind was on fire, he was crying and he could not speak..
"Good heavens man we should help him." McCoy made to reach for the trapped man but his hand simply passed through the solid matter like mist.
"I am afraid we can do nothing but observe." Spock looked on impassively.
"He's naked." observed Kirk, "we can see his phaser."
"Dammit Jim dont look at those." the Doc turned his back.
"Mine's bigger," mused Kirk.
The scene flickered and changed. The same man but no longer strapped to the table.
Curled up in a corner Robert squeezed his legs against his body.
Kirk runs over and kneels next to the man, listening as he mumbles under his breath.
Robert- no it can be?…i can't be alive?…. i cant? .. can't… I am dead… I am dead…
Robert rocked back and forth repeating the words. My hurts… my head hurts so bad. why am I alive?….
The room had no lights in it.. It was bare. Bare floors, bare ceilings. There was nothing in the room but Robert.
"Who is he?" Kirk demands as the man continues to speak to himself his voice becoming louder and more frantic.
"This must be hell …. Hell. Hell…..hell (and as loud as he could scream) Hell!……
"Someone should give him a sedative." said McCoy.
"That would defeat the object of the torture." replied Spock.
Robert never thought of the outside world .. what was going on or where he was.. just the pain, just the darkness. there is no we ..there is only darkness.. darkness is my friend.
"This narrator is bugging me out." McCoy looked around trying to find the source of the strange voice.
"Pretty cool though, having darkness as a friend." Kirk considered the idea, "Hey I'm Captain Kirk and this is my good friend Darkness."
"He was not being literal." Spock gave a long suffering sigh.
"I bet darkness rides a motorbike." Kirk pressed on unperturbed.
Robert rocked back and forth…. Laughter began to arise from the darkness…
"Oh he's losing it." Kirk stood up and went to stand next to Spock. They both looked down at the stranger named Robert as he cried out.
"Strike me down demon scum.. stop your toying with me and end my suffering.. if this is indeed hell…kill me…"
"I think he's talking to you." McCoy gave Spock a grin just as golden light surrounded them once more.
"That Doctor was uncalled for." Spock's voice lingered for a brief moment as the trio vanished into the ether.
"Oh boy!"